By Amy | Posted on Sep 08, 2023
WHAT GOOGLE WANTS ON YOUR HOMEPAGE
The homepage design of your website goes a long way in determining your search ranking on Google. A very long way. We've been designing websites and studying Google's algorithms for several years now, and here are the top 12 things we recommend appear on the homepage:
Client phone number and email in the top of the homepage and in the footer area at the bottom of the page. Google — and your customers — want an easy way to reach you. Make certain your phone number is clickable on your mobile website.
At least 500 words of written content. That's the rule of thumb and can be broken down into well-designed sub-sections. The more content you have on your homepage, the more likely you are to rank for specific keywords and, thus, rank on page one of Google.
Correct on-page Search Engine Optimization (SEO). That includes keywords you're attempting to rank for throughout the content, including the H1/H2/H3 headlines and a meta description and title tag for each page. What does SEO stand for in web design and development
Dominant photography on your homepage … and throughout your site. Graphically appealing websites rank better on Google.
Fresh content. We know Google loves seeing a frequently updated homepage. Updating your blog posts, testimonials, and other content is advisable. Websites that don't include updated content on a regular basis often experience a drop in the search rankings.
Social media icons and links to your pages, preferably placed at the top of the homepage and in the footer. One of Google's most important algorithm updates was E.A.T. – Expertise, Authority, Trust. Social media signals to Google that you are a legitimate business to be trusted.
Customer testimonials. Scroll through 3-6 testimonials on the homepage and place different ones on the "About" page. Again, 5-star reviews show trustworthiness. If you have dozens of positive reviews already on Google, create an off-site link directly to them.
A strong logo design displayed in the top-left of your homepage and in the footer. This seems like a "no-brainer," but an ugly logo says a lot about your business that you shouldn't be proud of.
Always have the HOME page listed in the top navigational menu. Some web designers leave out the HOME page in the menu and instead link the page to the logo. Not all visitors are smart enough to find it, creating unnecessary navigational confusion.
Are you a member of a professional organization — trade group or chamber of commerce or the Better Business Bureau? Have you won any awards for your work? Have you earned an A+ ranking with the BBB? Post those logos in your footer. They show E.A.T. But one tip: Don't link the logos off-site to those organizations, as visitors may not return to your website.
A sitemap. It's a blueprint of your website that helps Google and other search engines easily crawl and index all of your website's content. Sitemaps are HUGE in helping Google find the different pages on your site. An XML sitemap is the common type and is the one we use. Sitemaps are positioned at the bottom of the website.
We also recommend that clients use a Call to Action — CTA — in the top photo area or above the fold on the homepage. Research shows CTA's inspire prospective customers to take action and boost your sales conversation rates. Many website CTA's include a link to sign up and receive a special offer or schedule an appointment. This tactic allows a business to capture leads through emails, and sometimes phone numbers, of prospects for follow-up contact.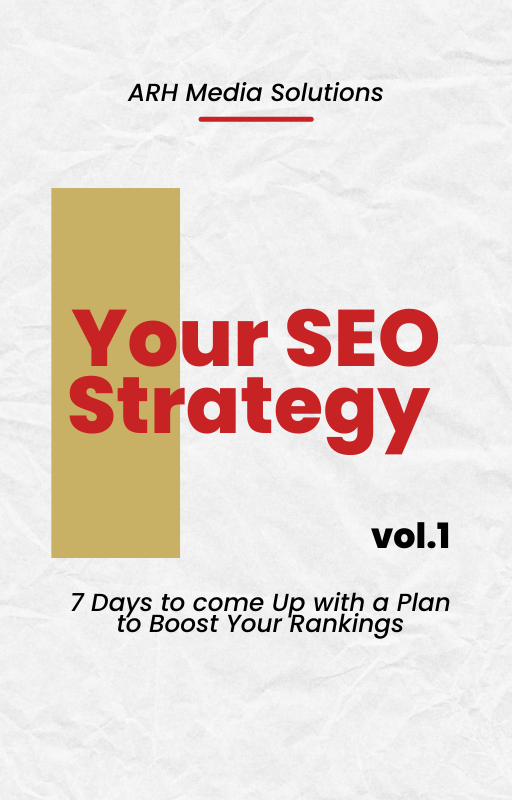 FREE E-BOOK
Your SEO Strategy
7 Days to come Up with a Plan to Boost Your Rankings
DOWNLOAD THE E-BOOK